My work is progressing quickly and the methods how I make my work are more complex than before. Firstly everything I am going to make this year has to be finished to a gallery standard and the work has to link to each other.
From my found chain images I decided that I wanted to go back to sculpture for my next piece and also re make a found object that I have found on the bed of the Thames in London. The object had to be something which was important to the working of the river. On one trip to find objects I found a small anchor washed up on the side of the river, it was an object which came into my category of being important as without it boats could float away and the message being the anchor – to stop leaving and to hold something in place would be important to the piece.
As the anchor was rusty and unloved I wanted to re make it out of bronze to signify the weight of the anchor and the metaphysical value the object has.
So far it has been remade out of wax and now waiting for it to be taken to the foundry. Displaying this object could be interesting as I want to show off it's weight and also it's new use as an art piece.
Add artist Susan Collis work and the value she uses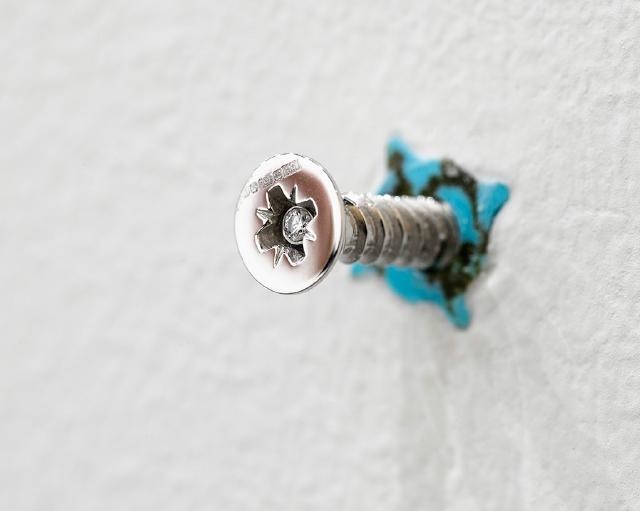 Susan Collis, As good as it gets, 2008 18-carat white gold (hallmarked), white sapphire, turquoise
Collis is interested in the shift of perception that takes place upon discovery that they are, in fact, careful, intentional acts, and that the materials used are traditionally valued for their financial or decorative properties. A tired stepladder covered with paint drips from years of use has been simulated by the meticulous inlaying of diamonds, pearls, opals and other prized materials. A bucket catching a drip from the gallery ceiling may not be the result of neglect, rather a complex staging of pumps, water-tanks and false walls to artificially create the scenario. Typically works involve momentous amounts of often hidden labour to create an object that may easily go unnoticed, but is replete with value, be it material or conceptual. (http://www.seventeengallery.com/artists/susan-collis/)
My work link to Collis as it is an everyday item and also is remade out of more valuable material. The display of the anchor will be creating a scene for it as Collis in her stepladder piece. The bronze anchor will be replaced in it original setting but before this displayed at a gallery to show case it as an art piece. When placed in the river the piece becomes a lesser object and more about the invisable labour and cost that was involved in making the piece